Autumn Mums

These vibrant autumn mums sing in this quilt. Set in a vertical column setting will be a great addition for the season or as a permanent addition to the room.


Black and Orange but Not Halloween

Bright orange grid work sets off a variety of black squares. The strong graphics and colors make a strong design statement.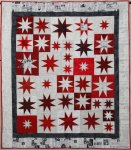 Black, White and Read All Over

A great use of black, white and red. But it is so much more. The newspaper articles hidden among the stars are truly a delight.


Blue Sampler

Traditional sampler quilt of 12 different blocks, in blue colorway with a distinctive setting.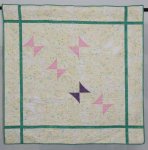 Butterflies

5 abstract butterflies flutter across a delicate print in this throw or wall hanging.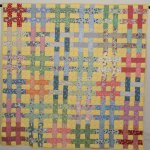 Buttery Baskets

This quilt harkens back to the 30's with over 50 different reproduction fabrics worked into an intricate, interwoven pattern. Perfect to brighten up a room, draped on a couch or as a centerpiece for a bed.


Coffee, Coffee, Coffee

Rich browns set off prints with coffee motifs. A deliciously satisfying image, perfect on a couch or bed - while sipping a morning cup, of course!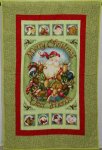 Deer Friends

Merry Christmas Deer Friends. Santa is surrounded by elves and deer( complete with mufflers and hats) - Is he preparing for his Christmas Eve travels? Instant Holiday decorating!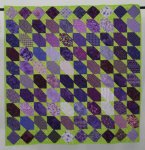 Dr. Seuss Would Approve

Purples on a lime green background suggest the iconic books by Dr. Seuss. A fun throw for a couch or bed to be enjoyed by any age.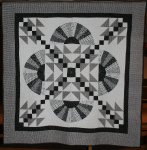 Fan Dance

This black and white quilt does a fanciful fan dance. It has strong and dynamic graphic making it perfect in the modern decor.


Flower Power

A throwback to the 1960's, green flower dots anchor a strong graphic setting in this twin or full quilt. Perfect for a non-fussy look!


Fractured Sunrise

In colors reminiscent of a Tequila Sunrise, fractures log cabin blocks are framed by black. Perfect for a modern setting!


Lightening Strikes

Traditional long cabin block in an unusual setting make this quilt both dramatic and beautiful. Skilled use of rose and purple fabrics in narrow "logs" sets this quilt apart.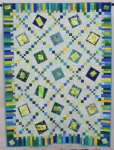 Limes

Fun colors in a whimsical setting, balanced by an orderly grid and piano key border.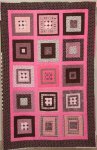 Not Enough Pink

A modern pink and chocolate quilt. Fit for the teen in your life.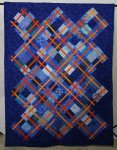 Orange in the Night

The distinctive argyle setting sets this quilt apart. A collection of blues and orange create a palette for the eyes to move across the quilt. This twin size quilt is perfect for a teen or graduate.


Red Vines and Black Licorce

Assorted reds are enhanced by black and white polka dots. Who knew there were so many shades of red?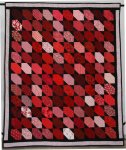 Red, the Riot Act

Assorted reds are enhanced by black and white polka dots. Who knew there were so many shades of red?


Singing the Blues

Eight different blocks, set asymmetrically, float on a mottled blue background. Perfect as a throw for couch or bed.


Sun and Moon

Medallions of moon and sun faces are framed in chains composed of colors contained in the medalli9ons. The skilled arrangement makes this twin quilt the focal point of any room.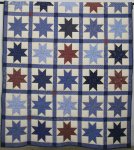 The General's Stars

A variety of blue stars, interrupted by scattered red stars, march across the blue framework with randomly placed red and blue cornerstones. The generous length would drape beautifully on a bed or couch.


The Star That Sparkles

A giant star filled with rich burgundy and green tones with a little oriental flair. Great focal piece for a wall.