Houses in the Trees

A traditional scrap quilt in reds, browns, blues and greens.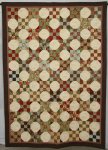 Scrappy Snowball

A homey twin quilt of earth tones.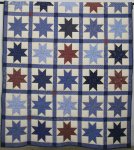 The General's Stars

A variety of blue stars, interrupted by scattered red stars, march across the blue framework with randomly placed red and blue cornerstones. The generous length would drape beautifully on a bed or couch.