Blue Sampler

Traditional sampler quilt of 12 different blocks, in blue colorway with a distinctive setting.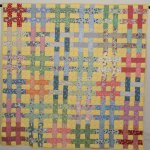 Buttery Baskets II

This quilt harkens back to the 30's with over 50 different reproduction fabrics worked into an intricate, interwoven pattern. Perfect to brighten up a room, draped on a couch or as a centerpiece for a bed.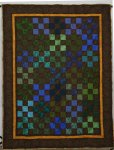 In the Forest

Light and dark nine patches play across this generous throw or twin quilt, creating movement of the light.


Lightening Strikes

Traditional long cabin block in an unusual setting make this quilt both dramatic and beautiful. Skilled use of rose and purple fabrics in narrow "logs" sets this quilt apart.


Perfectly Amish

This Amish inspired quilt uses a traditional pattern and solid colors to create a versatile addition to any style home. It would be striking hung on a wall, or draped across a couch or bed.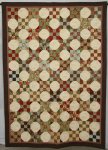 Scrappy Snowball

A homey twin quilt of earth tones.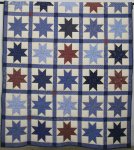 The General's Stars

A variety of blue stars, interrupted by scattered red stars, march across the blue framework with randomly placed red and blue cornerstones. The generous length would drape beautifully on a bed or couch.