Baseballs, Baseballs, Baseballs

A variety of pieced and solid squares in fun baseball prints, framed in blue and green. A great gift for a baseball lover or sports fan.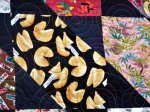 Eastern Vistas

Asian theme fabrics with black accents form the basis for this lap quilt.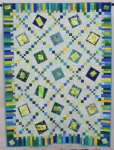 Limes

Fun colors in a whimsical setting, balanced by an orderly grid and piano key border.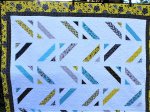 Modern Feathers

The clean, modern look of this twin size quilt would fit into any contemporary decor. Accents of turquoise, black and yellow are scattered across the crisp white background. The swirling quilt stitching provides a wonderful finishing touch.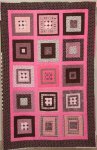 Not Enough Pink

A modern pink and chocolate quilt. Fit for the teen in your life.


Rainbow Swirls

A multitude of colors and prints are featured in this vibrant scrap quilt. In each quilt block, colors swirl around a central white octagon. Black and white sashing and borders set off the arrangement to perfection.


Starburst

White stars march across scrappy 16-patch blocks.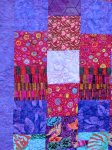 Wild Child

Bright, bold colors and prints march across this vibrant lap quilt. Purple borders frame it up nicely.