Skip Navigation
Website Accessibility
Quilts with Yellow and/or Orange
Search Quilts by Color > Quilts with Yellow and/or Orange
Washington Stars Quilt Guild: Quilts with Yellow and/or Orange


Click on a quilt for additional images




and details such as size and maker



Showing 1 - 12 of results
View Large Image
A Jumble

A Jumble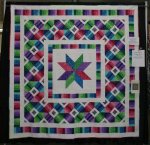 View Large Image
Crown Jewels

A bed size quilt that elegantly displays the peacock colors so well. Made as part of the Stars challenge by a very talented group of quilt artists from the And Sew On Bee.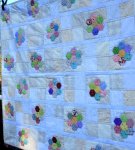 View Large Image
Grandma's Garden

1930's reproduction fabrics create the hexagon flowers that are appliqued on a classic four patch block of neutral colored fabrics. This is a classic quilt that will endure the test of time and always be a favorite to pass down for generations.


View Large Image
It's a Mystery

It's a Mystery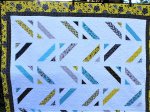 View Large Image
Modern Feathers

The clean, modern look of this twin size quilt would fit into any contemporary decor. Accents of turquoise, black and yellow are scattered across the crisp white background. The swirling quilt stitching provides a wonderful finishing touch.


View Large Image
Rainbow Swirls

A multitude of colors and prints are featured in this vibrant scrap quilt. In each quilt block, colors swirl around a central white octagon. Black and white sashing and borders set off the arrangement to perfection.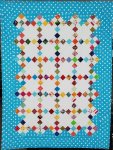 View Large Image
Sparkler

Colorful nine-patch blocks are set on point on a white background with a jaunty turquoise polka dot border. This lap quilt would brighten anyone's day.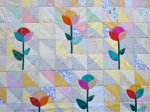 View Large Image
Spring Flowers

Colorful flowers are appliqued onto a pieced background of pastels on this generous lap or twin size quilt.


View Large Image
Starburst

White stars march across scrappy 16-patch blocks.


View Large Image
Sunny Fishes

A colorful lap quilt in blue, green and yellow. The whimsical suns, moons, and fish are from fabrics designed by Laurel Burch. The quilt's back even includes a mermaid.


View Large Image
Surrounded by Stars

A striking setting of stars, inset into a frame of more stars.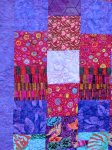 View Large Image
Wild Child

Bright, bold colors and prints march across this vibrant lap quilt. Purple borders frame it up nicely.