Autumn Mums

These vibrant autumn mums sing in this quilt. Set in a vertical column setting will be a great addition for the season or as a permanent addition to the room.


Batik Boxes

A rainbow of batik fabrics pieced in framed squares. If you love batik's this is the quilt for you!


Black and Orange but Not Halloween

Bright orange grid work sets off a variety of black squares. The strong graphics and colors make a strong design statement.


Blackberry Cobbler

Abstract piecing of berries are defined by meticulous quilting. The lattice work border completes the garden image.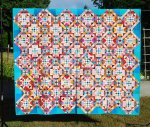 Bright Delights

This intricate block design will brighten up any room. Shades of blues, oranges and reds are beautifully pieced to create this show stopping quilt.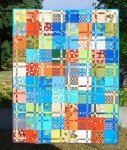 Crossroads

Bright modern prints in blue, green and orange color these flag like blocks.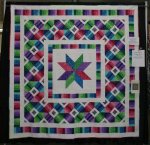 Crown Jewels

A bed size quilt that elegantly displays the peacock colors so well. Made as part of the Stars challenge by a very talented group of quilt artists from the And Sew On Bee.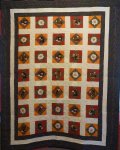 Daisies

Lovely daisies framed in orange and red squares on a cream background. This rich, floral quilt will warm any room.


Fashion Parade

A fun mix of fabrics are used for the dresses these classic dolls are modeling. Perfect for that little one that loves to dress up and play with dolls. Also makes a great wall hanging or lap quilt.


Fractured Sunrise

In colors reminiscent of a Tequila Sunrise, fractures log cabin blocks are framed by black. Perfect for a modern setting!


It Takes a Village

This delightful wall quilt of houses reminiscent of a Tuscany village.


It's Spring

Strips of yellow, blue and green spring colors arranged in a fun, geometric design on a white background will brighten your day and your home! This is a great size for a lap quilt or hang it on the wall to bring the sunshine in.


Mocha Medley

A quilt made with rich batiks in golds, greens, browns and a little bit of every other color. A full or double bed size would also be great for catching a nap on a couch.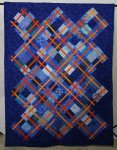 Orange in the Night

The distinctive argyle setting sets this quilt apart. A collection of blues and orange create a palette for the eyes to move across the quilt. This twin size quilt is perfect for a teen or graduate.


Pink Baby

Bright colorful triangles bordered in pink with lovely quilted flowers and leaves.


Starburst

White stars march across scrappy 16-patch blocks.


Sun and Moon

Medallions of moon and sun faces are framed in chains composed of colors contained in the medalli9ons. The skilled arrangement makes this twin quilt the focal point of any room.


Surrounded by Stars

A striking setting of stars, inset into a frame of more stars.


Through the Window

Bright, rectangular pops of color on a white background highlighted by quilted swirls.