Coffee, Coffee, Coffee

Rich browns set off prints with coffee motifs. A deliciously satisfying image, perfect on a couch or bed - while sipping a morning cup, of course!


It Takes a Village

This delightful wall quilt of houses reminiscent of a Tuscany village.


Mocha Medley

A quilt made with rich batiks in golds, greens, browns and a little bit of every other color. A full or double bed size would also be great for catching a nap on a couch.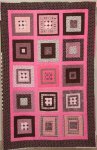 Not Enough Pink

A modern pink and chocolate quilt. Fit for the teen in your life.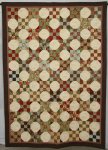 Scrappy Snowball

A homey twin quilt of earth tones.