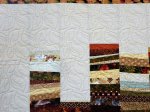 Bars and Leaves

This lap quilt has a modern styling, with autumn colors stacked in bars and plenty of neutral background to show off the stitching pattern of swirling leaves.


Baseballs, Baseballs, Baseballs

A variety of pieced and solid squares in fun baseball prints, framed in blue and green. A great gift for a baseball lover or sports fan.


Blue Asia

Deep, rich navy blue with shades of blue and gold are combined in this Asian inspired beauty.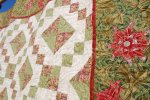 Diamonds on Point

Diamonds on Point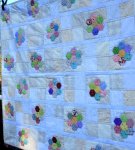 Grandma's Garden

1930's reproduction fabrics create the hexagon flowers that are appliqued on a classic four patch block of neutral colored fabrics. This is a classic quilt that will endure the test of time and always be a favorite to pass down for generations.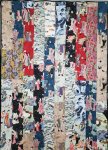 Ladies on Parade

This generous sized lap quilt features images of beautiful Japanese ladies in their traditional costumes.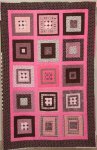 Not Enough Pink

A modern pink and chocolate quilt. Fit for the teen in your life.


Opulence

A wall hanging using Asian theme fabrics with metallic gold details.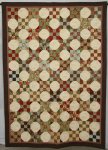 Scrappy Snowball

A homey twin quilt of earth tones.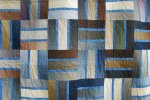 Strips of Ombre

Strips of Ombre