Flower Power

A throwback to the 1960's, green flower dots anchor a strong graphic setting in this twin or full quilt. Perfect for a non-fussy look!


Lime Aid

Lime Aid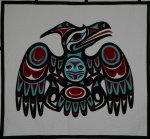 Revery of the Totems

A large art quilt worthy of a prominent display. Eleven totems in an asymmetrical setting with quilting designed to set off each design. A true statement piece!


Suits and Ties

A wonderful whimsical look at the suited world. A great gift for your corporate bestie.