Skip Navigation
Website Accessibility
Quilts with Black and/or White
Search Quilts by Color > Quilts with Black and/or White
Washington Stars Quilt Guild: Quilts with Black and/or White


Click on a quilt for additional images




and details such as size and maker



Showing 1 - 11 of results
View Large Image
30's on White

Multicolored reproduction fabrics from the 1930's are arranged on a white background in this cheerful quilt.


View Large Image
Circle Monsters

A colorful children's quilt featuring cute monsters.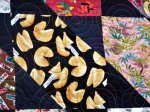 View Large Image
Eastern Vistas

Asian theme fabrics with black accents form the basis for this lap quilt.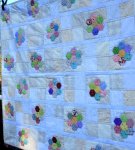 View Large Image
Grandma's Garden

1930's reproduction fabrics create the hexagon flowers that are appliqued on a classic four patch block of neutral colored fabrics. This is a classic quilt that will endure the test of time and always be a favorite to pass down for generations.


View Large Image
Happy Windows

The purchase of this quilt supports the charitable and educational missions of the Washington Stars Quilt Guild. Prepare for a colorful view through these topsy turvy windows! Graphic primary colored fabrics make this quilt pop! 49"x64"


View Large Image
Lime Aid

Lime Aid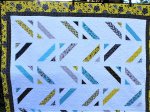 View Large Image
Modern Feathers

The clean, modern look of this twin size quilt would fit into any contemporary decor. Accents of turquoise, black and yellow are scattered across the crisp white background. The swirling quilt stitching provides a wonderful finishing touch.


View Large Image
Rainbow Swirls

A multitude of colors and prints are featured in this vibrant scrap quilt. In each quilt block, colors swirl around a central white octagon. Black and white sashing and borders set off the arrangement to perfection.


View Large Image
Red River
View Large Image
Roses Galore

This twin size quilt is perfect for lovers of blue and green. Cream roses float on a royal blue background. They are set off by white and leafy green fabrics, with lovely roses stitched over all.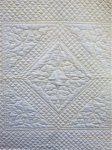 View Large Image
White on White

This stunning all-white quilt features highly detailed quilting designs in the old tradition.