Skip Navigation
Website Accessibility
Reproduction Fabrics
Washington Stars Quilt Guild: Quilts made with Reproduction Fabrics


Click on a quilt for additional images




and details such as size and maker



View Large Image
30's on White

Multicolored reproduction fabrics from the 1930's are arranged on a white background in this cheerful quilt.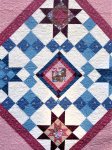 View Large Image
70's Block of the Month

An elegant medallion style quilt in burgundy and blue. This traditional design would fit into a room full of antiques, or almost any decor. It's a classic.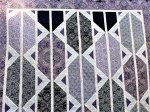 View Large Image
Downton Abbey - Violet

To celebrate the hit TV series, Downton Abbey, the fabrics here represent Violet Crawley, the Dowager Countess (the character portrayed by Maggie Smith), in violet and mauve tones. The Abbey itself is pictured on the back of the quilt.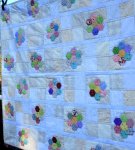 View Large Image
Grandma's Garden

1930's reproduction fabrics create the hexagon flowers that are appliqued on a classic four patch block of neutral colored fabrics. This is a classic quilt that will endure the test of time and always be a favorite to pass down for generations.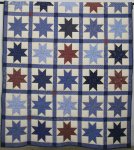 View Large Image
The General's Stars

A variety of blue stars, interrupted by scattered red stars, march across the blue framework with randomly placed red and blue cornerstones. The generous length would drape beautifully on a bed or couch.