30's on White

Multicolored reproduction fabrics from the 1930's are arranged on a white background in this cheerful quilt.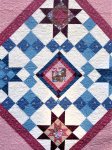 70's Block of the Month

An elegant medallion style quilt in burgundy and blue. This traditional design would fit into a room full of antiques, or almost any decor. It's a classic.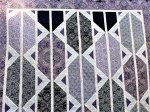 Downton Abbey - Violet

To celebrate the hit TV series, Downton Abbey, the fabrics here represent Violet Crawley, the Dowager Countess (the character portrayed by Maggie Smith), in violet and mauve tones. The Abbey itself is pictured on the back of the quilt.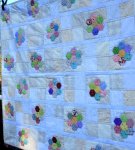 Grandma's Garden

1930's reproduction fabrics create the hexagon flowers that are appliqued on a classic four patch block of neutral colored fabrics. This is a classic quilt that will endure the test of time and always be a favorite to pass down for generations.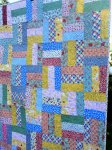 Happy Days

Happy Days are here again with the reproduction fabrics of yesteryear. The fabrics used in this quilt will take you back to your grandmother's days using a classic strip pieced block. Nice and cozy to snuggle under and read a book.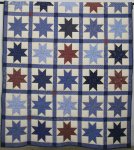 The General's Stars

A variety of blue stars, interrupted by scattered red stars, march across the blue framework with randomly placed red and blue cornerstones. The generous length would drape beautifully on a bed or couch.


Vintage Butterflies

Here is a cheery traditional baby quilt or wall hanging made with vintage butterfly blocks from the 1930's and reproduction fabric.