Buttery Basket I

This quilt harkens back to the 30's with over 50 different reproduction fabrics worked into an intricate, interwoven pattern. Perfect to brighten up a room, draped on a couch or as a centerpiece for a bed.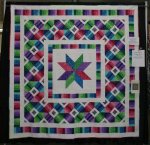 Crown Jewels

A bed size quilt that elegantly displays the peacock colors so well. Made as part of the Stars challenge by a very talented group of quilt artists from the And Sew On Bee.


Fractured Sunrise

In colors reminiscent of a Tequila Sunrise, fractures log cabin blocks are framed by black. Perfect for a modern setting!


Licorce and Sorbet

Black and white novelty prints march across a raspberry sorbet background. Look for the diagonal stars!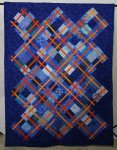 Orange in the Night

The distinctive argyle setting sets this quilt apart. A collection of blues and orange create a palette for the eyes to move across the quilt. This twin size quilt is perfect for a teen or graduate.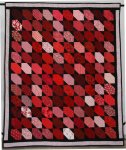 Red, the Riot Act

Assorted reds are enhanced by black and white polka dots. Who knew there were so many shades of red?