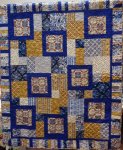 Blue Asia

Deep, rich navy blue with shades of blue and gold are combined in this Asian inspired beauty.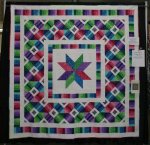 Crown Jewels

A bed size quilt that elegantly displays the peacock colors so well. Made as part of the Stars challenge by a very talented group of quilt artists from the And Sew On Bee.


It's Spring

Strips of yellow, blue and green spring colors arranged in a fun, geometric design on a white background will brighten your day and your home! This is a great size for a lap quilt or hang it on the wall to bring the sunshine in.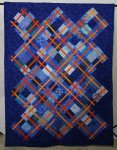 Orange in the Night

The distinctive argyle setting sets this quilt apart. A collection of blues and orange create a palette for the eyes to move across the quilt. This twin size quilt is perfect for a teen or graduate.