Batik Boxes

A rainbow of batik fabrics pieced in framed squares. If you love batik's this is the quilt for you!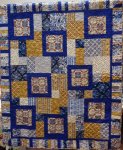 Blue Asia

Deep, rich navy blue with shades of blue and gold are combined in this Asian inspired beauty.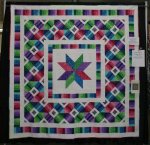 Crown Jewels

A bed size quilt that elegantly displays the peacock colors so well. Made as part of the Stars challenge by a very talented group of quilt artists from the And Sew On Bee.


Diamonds, Diamonds

Jewel colored diamonds in shades of blue and green.


Fractured Sunrise

In colors reminiscent of a Tequila Sunrise, fractures log cabin blocks are framed by black. Perfect for a modern setting!


It's Spring

Strips of yellow, blue and green spring colors arranged in a fun, geometric design on a white background will brighten your day and your home! This is a great size for a lap quilt or hang it on the wall to bring the sunshine in.


My Home Town

Celebrate home with this bright, cheerful quilt. Perfect as a wall hanging.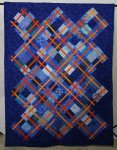 Orange in the Night

The distinctive argyle setting sets this quilt apart. A collection of blues and orange create a palette for the eyes to move across the quilt. This twin size quilt is perfect for a teen or graduate.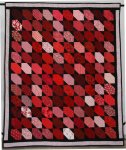 Red, the Riot Act

Assorted reds are enhanced by black and white polka dots. Who knew there were so many shades of red?


Through the Window

Bright, rectangular pops of color on a white background highlighted by quilted swirls.