Skip Navigation
Website Accessibility
Modern Quilts
Washington Stars Quilt Guild: Modern Quilts


Click on a quilt for additional images




and details such as size and maker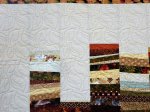 View Large Image
Bars and Leaves

This lap quilt has a modern styling, with autumn colors stacked in bars and plenty of neutral background to show off the stitching pattern of swirling leaves.


View Large Image
Blue Asia

Deep, rich navy blue with shades of blue and gold are combined in this Asian inspired beauty.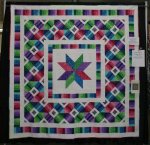 View Large Image
Crown Jewels

A bed size quilt that elegantly displays the peacock colors so well. Made as part of the Stars challenge by a very talented group of quilt artists from the And Sew On Bee.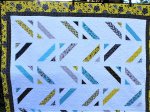 View Large Image
Modern Feathers

The clean, modern look of this twin size quilt would fit into any contemporary decor. Accents of turquoise, black and yellow are scattered across the crisp white background. The swirling quilt stitching provides a wonderful finishing touch.


View Large Image
Red River
View Large Image
Tropical Batiks

A bright and cheery lap-sized quilt made with batik fabrics.