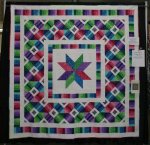 Crown Jewels

A bed size quilt that elegantly displays the peacock colors so well. Made as part of the Stars challenge by a very talented group of quilt artists from the And Sew On Bee.


Mocha Medley

A quilt made with rich batiks in golds, greens, browns and a little bit of every other color. A full or double bed size would also be great for catching a nap on a couch.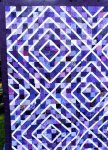 Purple, Purple, and More Purple

A glorious celebration of the color purple! This full to queen size quilt makes a bold impact, with white accents over varied shades of purple.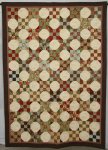 Scrappy Snowball

A homey twin quilt of earth tones.


Starburst

White stars march across scrappy 16-patch blocks.


Starry, Starry Night

A king-sized beauty of bright stars on a mixed blue background of intense hues.


Surrounded by Stars

A striking setting of stars, inset into a frame of more stars.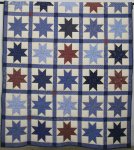 The General's Stars

A variety of blue stars, interrupted by scattered red stars, march across the blue framework with randomly placed red and blue cornerstones. The generous length would drape beautifully on a bed or couch.


Winter Snowflakes

A beautiful quilt in shades of blue, featuring intricate snowflakes. Suitable for a full or queen size bed.