30's on White

Multicolored reproduction fabrics from the 1930's are arranged on a white background in this cheerful quilt.


Circle Monsters

A colorful children's quilt featuring cute monsters.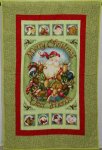 Deer Friends

Merry Christmas Deer Friends. Santa is surrounded by elves and deer( complete with mufflers and hats) - Is he preparing for his Christmas Eve travels? Instant Holiday decorating!


Happy Windows
Lady Bug on Pink

Lady Bug on Pink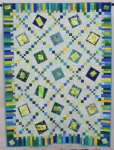 Limes

Fun colors in a whimsical setting, balanced by an orderly grid and piano key border.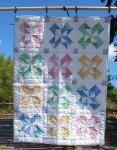 Pastel Bouquet

Pastel Bouquet


School Houses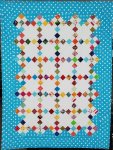 Sparkler

Colorful nine-patch blocks are set on point on a white background with a jaunty turquoise polka dot border. This lap quilt would brighten anyone's day.


Springtime #1

A cute little dog enjoys the four seasons in this child's quilt with blue and pale green borders.


Tropical Batiks

A bright and cheery lap-sized quilt made with batik fabrics.