Blackberry Cobbler

Abstract piecing of berries are defined by meticulous quilting. The lattice work border completes the garden image.


Buddha Temple

This wall hanging showcases Asian fabrics and embellishments. A skilled use of fabrics create a 3-D effect in the blocks.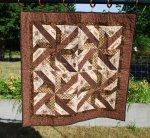 Coffee, Coffee, Coffee

Rich browns set off prints with coffee motifs. A deliciously satisfying image, perfect on a couch or bed - while sipping a morning cup, of course!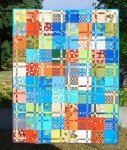 Crossroads

Bright modern prints in blue, green and orange color these flag like blocks.


Diamonds, Diamonds

Jewel colored diamonds in shades of blue and green.


Fashion Parade

A fun mix of fabrics are used for the dresses these classic dolls are modeling. Perfect for that little one that loves to dress up and play with dolls. Also makes a great wall hanging or lap quilt.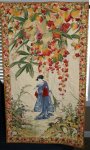 Geisha in the Garden

A tall and narrow wall hanging perfect in a room decorated in Asian motifs.


It Takes a Village

This delightful wall quilt of houses reminiscent of a Tuscany village.


It's Spring

Strips of yellow, blue and green spring colors arranged in a fun, geometric design on a white background will brighten your day and your home! This is a great size for a lap quilt or hang it on the wall to bring the sunshine in.


My Home Town

Celebrate home with this bright, cheerful quilt. Perfect as a wall hanging.


Our Village

Our Village


Pretty Houses

Pretty Houses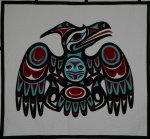 Revery of the Totems

A large art quilt worthy of a prominent display. Eleven totems in an asymmetrical setting with quilting designed to set off each design. A true statement piece!


Star Garden

Wouldn't you love to plant stars in your garden? Our lady gardener has been tending to her plants which have yielded a bold variety of star flowers - this will bring a smile to your face every time you look at it.


Sue's Chain Gang

Sue's Chain Gang


Suits and Ties

A wonderful whimsical look at the suited world. A great gift for your corporate bestie.