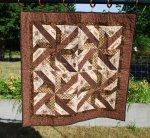 Coffee, Coffee, Coffee

Rich browns set off prints with coffee motifs. A deliciously satisfying image, perfect on a couch or bed - while sipping a morning cup, of course!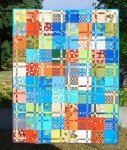 Crossroads

Bright modern prints in blue, green and orange color these flag like blocks.


Fashion Parade

A fun mix of fabrics are used for the dresses these classic dolls are modeling. Perfect for that little one that loves to dress up and play with dolls. Also makes a great wall hanging or lap quilt.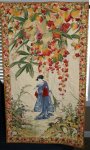 Geisha in the Garden

A tall and narrow wall hanging perfect in a room decorated in Asian motifs.


It's Spring

Strips of yellow, blue and green spring colors arranged in a fun, geometric design on a white background will brighten your day and your home! This is a great size for a lap quilt or hang it on the wall to bring the sunshine in.


Opulence

A wall hanging using Asian theme fabrics with metallic gold details.


Suits and Ties

A wonderful whimsical look at the suited world. A great gift for your corporate bestie.