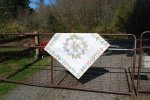 30's Baby

Baby quilt in beautiful 30's reproduction prints.


A Jumble

A Jumble


Baby Brights

This modern setting is perfect as a gift for the baby. Full of bright colors to bring a smile to the face of new parents or doting grandparents. Striped binding captures colors of the blocks.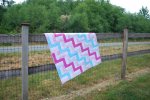 Baby, Baby, Oh Baby

Rail fence quilt design in bright cheery pink, blue and white for your special baby.


Baseballs, Baseballs, Baseballs

A variety of pieced and solid squares in fun baseball prints, framed in blue and green. A great gift for a baseball lover or sports fan.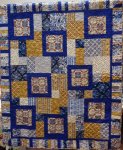 Blue Asia

Deep, rich navy blue with shades of blue and gold are combined in this Asian inspired beauty.


Bright Baby

Simple piecing allows the quilting to be the star. Cheerful colors and striped borders will make this a favorite for your little one.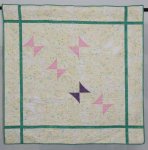 Butterflies

5 abstract butterflies flutter across a delicate print in this throw or wall hanging.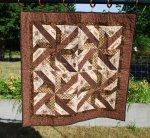 Coffee, Coffee, Coffee

Rich browns set off prints with coffee motifs. A deliciously satisfying image, perfect on a couch or bed - while sipping a morning cup, of course!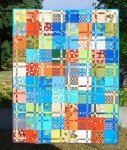 Crossroads

Bright modern prints in blue, green and orange color these flag like blocks.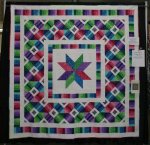 Crown Jewels

A bed size quilt that elegantly displays the peacock colors so well. Made as part of the Stars challenge by a very talented group of quilt artists from the And Sew On Bee.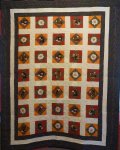 Daisies

Lovely daisies framed in orange and red squares on a cream background. This rich, floral quilt will warm any room.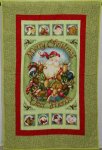 Deer Friends

Merry Christmas Deer Friends. Santa is surrounded by elves and deer( complete with mufflers and hats) - Is he preparing for his Christmas Eve travels? Instant Holiday decorating!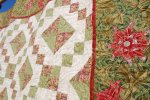 Diamonds on Point

Diamonds on Point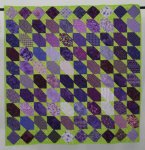 Dr. Seuss Would Approve

Purples on a lime green background suggest the iconic books by Dr. Seuss. A fun throw for a couch or bed to be enjoyed by any age.


Fashion Parade

A fun mix of fabrics are used for the dresses these classic dolls are modeling. Perfect for that little one that loves to dress up and play with dolls. Also makes a great wall hanging or lap quilt.


Flower Power

A throwback to the 1960's, green flower dots anchor a strong graphic setting in this twin or full quilt. Perfect for a non-fussy look!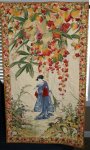 Geisha in the Garden

A tall and narrow wall hanging perfect in a room decorated in Asian motifs.


Hearts All Over

Hearts All Over


It's a Mystery

It's a Mystery


It's Spring

Strips of yellow, blue and green spring colors arranged in a fun, geometric design on a white background will brighten your day and your home! This is a great size for a lap quilt or hang it on the wall to bring the sunshine in.


Lady Bug on Pink

Lady Bug on Pink


Lime Aid

Lime Aid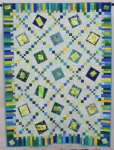 Limes

Fun colors in a whimsical setting, balanced by an orderly grid and piano key border.


Mocha Medley

A quilt made with rich batiks in golds, greens, browns and a little bit of every other color. A full or double bed size would also be great for catching a nap on a couch.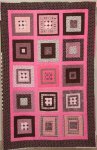 Not Enough Pink

A modern pink and chocolate quilt. Fit for the teen in your life.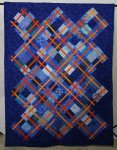 Orange in the Night

The distinctive argyle setting sets this quilt apart. A collection of blues and orange create a palette for the eyes to move across the quilt. This twin size quilt is perfect for a teen or graduate.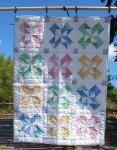 Pastel Bouquet

Pastel Bouquet


Pink Chevrons

Pink Chevrons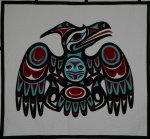 Revery of the Totems

A large art quilt worthy of a prominent display. Eleven totems in an asymmetrical setting with quilting designed to set off each design. A true statement piece!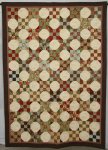 Scrappy Snowball

A homey twin quilt of earth tones.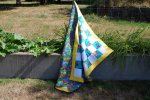 Something Fishy

Something Fishy


Starburst

White stars march across scrappy 16-patch blocks.


Starry, Starry Night

A king-sized beauty of bright stars on a mixed blue background of intense hues.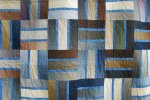 Strips of Ombre

Strips of Ombre


Suits and Ties

A wonderful whimsical look at the suited world. A great gift for your corporate bestie.


Surrounded by Stars

A striking setting of stars, inset into a frame of more stars.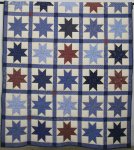 The General's Stars

A variety of blue stars, interrupted by scattered red stars, march across the blue framework with randomly placed red and blue cornerstones. The generous length would drape beautifully on a bed or couch.


Three Strikes

A variety of pieced and solid squares in fun baseball prints, framed in blue and green. A great gift for a baseball lover or sports fan.