A Jumble

A Jumble


Asian Flowers

Asian Flowers


Autumn Mums

These vibrant autumn mums sing in this quilt. Set in a vertical column setting will be a great addition for the season or as a permanent addition to the room.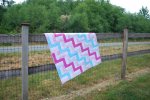 Baby, Baby, Oh Baby

Rail fence quilt design in bright cheery pink, blue and white for your special baby.


Baseballs, Baseballs, Baseballs

A variety of pieced and solid squares in fun baseball prints, framed in blue and green. A great gift for a baseball lover or sports fan.


Batik Boxes

A rainbow of batik fabrics pieced in framed squares. If you love batik's this is the quilt for you!


Blackberry Cobbler

Abstract piecing of berries are defined by meticulous quilting. The lattice work border completes the garden image.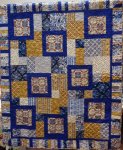 Blue Asia

Deep, rich navy blue with shades of blue and gold are combined in this Asian inspired beauty.


Blue Sampler

Traditional sampler quilt of 12 different blocks, in blue colorway with a distinctive setting.


Bright Baby

Simple piecing allows the quilting to be the star. Cheerful colors and striped borders will make this a favorite for your little one.


Buddha Temple

This wall hanging showcases Asian fabrics and embellishments. A skilled use of fabrics create a 3-D effect in the blocks.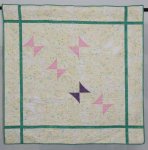 Butterflies

5 abstract butterflies flutter across a delicate print in this throw or wall hanging.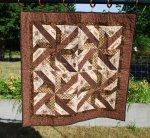 Coffee, Coffee, Coffee

Rich browns set off prints with coffee motifs. A deliciously satisfying image, perfect on a couch or bed - while sipping a morning cup, of course!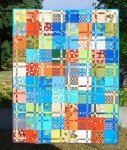 Crossroads

Bright modern prints in blue, green and orange color these flag like blocks.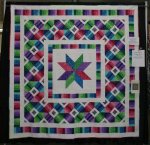 Crown Jewels

A bed size quilt that elegantly displays the peacock colors so well. Made as part of the Stars challenge by a very talented group of quilt artists from the And Sew On Bee.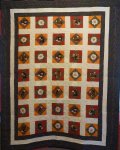 Daisies

Lovely daisies framed in orange and red squares on a cream background. This rich, floral quilt will warm any room.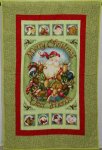 Deer Friends

Merry Christmas Deer Friends. Santa is surrounded by elves and deer( complete with mufflers and hats) - Is he preparing for his Christmas Eve travels? Instant Holiday decorating!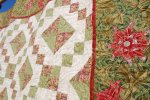 Diamonds on Point

Diamonds on Point


Diamonds, Diamonds

Jewel colored diamonds in shades of blue and green.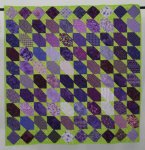 Dr. Seuss Would Approve

Purples on a lime green background suggest the iconic books by Dr. Seuss. A fun throw for a couch or bed to be enjoyed by any age.


Fashion Parade

A fun mix of fabrics are used for the dresses these classic dolls are modeling. Perfect for that little one that loves to dress up and play with dolls. Also makes a great wall hanging or lap quilt.


Flower Power

A throwback to the 1960's, green flower dots anchor a strong graphic setting in this twin or full quilt. Perfect for a non-fussy look!


Fractured Sunrise

In colors reminiscent of a Tequila Sunrise, fractures log cabin blocks are framed by black. Perfect for a modern setting!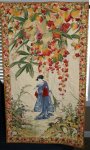 Geisha in the Garden

A tall and narrow wall hanging perfect in a room decorated in Asian motifs.


Hearts All Over

Hearts All Over


It Takes a Village

This delightful wall quilt of houses reminiscent of a Tuscany village.


It's a Mystery

It's a Mystery


It's Spring

Strips of yellow, blue and green spring colors arranged in a fun, geometric design on a white background will brighten your day and your home! This is a great size for a lap quilt or hang it on the wall to bring the sunshine in.


Lady Bug on Pink

Lady Bug on Pink


Lightening Strikes

Traditional long cabin block in an unusual setting make this quilt both dramatic and beautiful. Skilled use of rose and purple fabrics in narrow "logs" sets this quilt apart.


Lime Aid

Lime Aid


Lime Baby

A fun strippy baby/toddler quilt that will give great comfort to your favorite little one. Don't be surprised if your favorite toddler uses it as a highway for mini cars!!!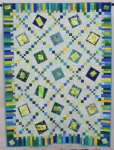 Limes

Fun colors in a whimsical setting, balanced by an orderly grid and piano key border.


Mocha Medley

A quilt made with rich batiks in golds, greens, browns and a little bit of every other color. A full or double bed size would also be great for catching a nap on a couch.


My Home Town

Celebrate home with this bright, cheerful quilt. Perfect as a wall hanging.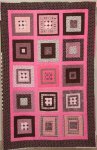 Not Enough Pink

A modern pink and chocolate quilt. Fit for the teen in your life.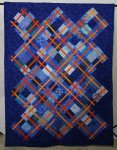 Orange in the Night

The distinctive argyle setting sets this quilt apart. A collection of blues and orange create a palette for the eyes to move across the quilt. This twin size quilt is perfect for a teen or graduate.


Our Village

Our Village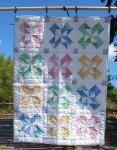 Pastel Bouquet

Pastel Bouquet


Pink Chevrons

Pink Chevrons


Pretty Houses

Pretty Houses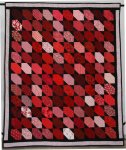 Red, the Riot Act

Assorted reds are enhanced by black and white polka dots. Who knew there were so many shades of red?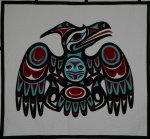 Revery of the Totems

A large art quilt worthy of a prominent display. Eleven totems in an asymmetrical setting with quilting designed to set off each design. A true statement piece!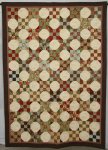 Scrappy Snowball

A homey twin quilt of earth tones.


Singing the Blues

Eight different blocks, set asymmetrically, float on a mottled blue background. Perfect as a throw for couch or bed.


Sleep Tight

Sleep Tight


Snowstorm 2019

Snowstorm 2019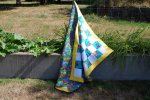 Something Fishy

Something Fishy


Star Garden

Wouldn't you love to plant stars in your garden? Our lady gardener has been tending to her plants which have yielded a bold variety of star flowers - this will bring a smile to your face every time you look at it.


Starburst

White stars march across scrappy 16-patch blocks.


Starburst of Color

Starbursts of Color


Starry, Starry Night

A king-sized beauty of bright stars on a mixed blue background of intense hues.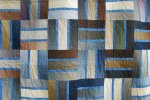 Strips of Ombre

Strips of Ombre


Sue's Chain Gang

Sue's Chain Gang


Suits and Ties

A wonderful whimsical look at the suited world. A great gift for your corporate bestie.


Sun and Moon

Medallions of moon and sun faces are framed in chains composed of colors contained in the medalli9ons. The skilled arrangement makes this twin quilt the focal point of any room.


Surrounded by Stars

A striking setting of stars, inset into a frame of more stars.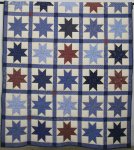 The General's Stars

A variety of blue stars, interrupted by scattered red stars, march across the blue framework with randomly placed red and blue cornerstones. The generous length would drape beautifully on a bed or couch.


Three Strikes

A variety of pieced and solid squares in fun baseball prints, framed in blue and green. A great gift for a baseball lover or sports fan.


Through the Window

Bright, rectangular pops of color on a white background highlighted by quilted swirls.