Christmas Goose

This is a festive Christmas quilt, perfect for displaying on a sofa or hanging on the wall.


Happy Hour

This cheery lap-sized quilt is perfect to snuggle under or display at the end of the bed.


Happy Windows

The purchase of this quilt supports the charitable and educational missions of the Washington Stars Quilt Guild. Prepare for a colorful view through these topsy turvy windows! Graphic primary colored fabrics make this quilt pop! 49"x64"


Red River
School Houses

Purchasing this quilt supports the charitable and educational missions of the Washington Stars Quilt Guild. "School House" quilt is a delightful quilt, in shades of blue. 45"x61"


Tropical Batiks

A bright and cheery lap-sized quilt made with batik fabrics.


30's on White

Multicolored reproduction fabrics from the 1930's are arranged on a white background in this cheerful quilt.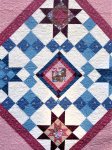 70's Block of the Month

An elegant medallion style quilt in burgundy and blue. This traditional design would fit into a room full of antiques, or almost any decor. It's a classic.


A Jumble

A Jumble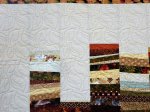 Bars and Leaves

This lap quilt has a modern styling, with autumn colors stacked in bars and plenty of neutral background to show off the stitching pattern of swirling leaves.


Baseballs, Baseballs, Baseballs

A variety of pieced and solid squares in fun baseball prints, framed in blue and green. A great gift for a baseball lover or sports fan.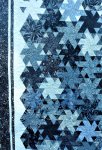 Batik Swirl

The variety of blue batik fabrics used in the intricate piecing of blocks give a sense of swirling and twirling throughout the quilt. Delightful addition to any decor.


Blue Asia

Deep, rich navy blue with shades of blue and gold are combined in this Asian inspired beauty.


Circle Monsters

A colorful children's quilt featuring cute monsters.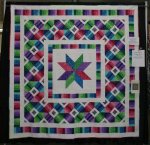 Crown Jewels

A bed size quilt that elegantly displays the peacock colors so well. Made as part of the Stars challenge by a very talented group of quilt artists from the And Sew On Bee.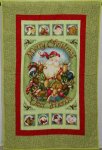 Deer Friends

Merry Christmas Deer Friends. Santa is surrounded by elves and deer( complete with mufflers and hats) - Is he preparing for his Christmas Eve travels? Instant Holiday decorating!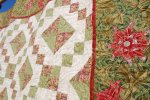 Diamonds on Point

Diamonds on Point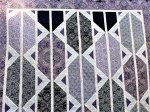 Downton Abbey - Violet

To celebrate the hit TV series, Downton Abbey, the fabrics here represent Violet Crawley, the Dowager Countess (the character portrayed by Maggie Smith), in violet and mauve tones. The Abbey itself is pictured on the back of the quilt.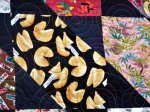 Eastern Vistas

Asian theme fabrics with black accents form the basis for this lap quilt.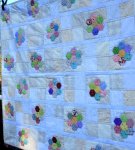 Grandma's Garden

1930's reproduction fabrics create the hexagon flowers that are appliqued on a classic four patch block of neutral colored fabrics. This is a classic quilt that will endure the test of time and always be a favorite to pass down for generations.


Hearts All Over

Hearts All Over


It's a Mystery

It's a Mystery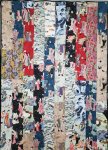 Ladies on Parade

This generous sized lap quilt features images of beautiful Japanese ladies in their traditional costumes.


Lady Bug on Pink

Lady Bug on Pink


Lime Aid

Lime Aid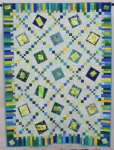 Limes

Fun colors in a whimsical setting, balanced by an orderly grid and piano key border.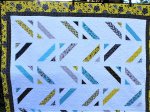 Modern Feathers

The clean, modern look of this twin size quilt would fit into any contemporary decor. Accents of turquoise, black and yellow are scattered across the crisp white background. The swirling quilt stitching provides a wonderful finishing touch.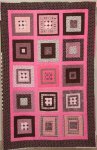 Not Enough Pink

A modern pink and chocolate quilt. Fit for the teen in your life.


Opulence

A wall hanging using Asian theme fabrics with metallic gold details.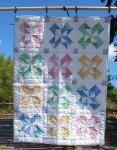 Pastel Bouquet

Pastel Bouquet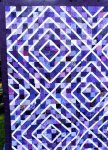 Purple, Purple, and More Purple

A glorious celebration of the color purple! This full to queen size quilt makes a bold impact, with white accents over varied shades of purple.


Rainbow Swirls

A multitude of colors and prints are featured in this vibrant scrap quilt. In each quilt block, colors swirl around a central white octagon. Black and white sashing and borders set off the arrangement to perfection.


Roses Galore

This twin size quilt is perfect for lovers of blue and green. Cream roses float on a royal blue background. They are set off by white and leafy green fabrics, with lovely roses stitched over all.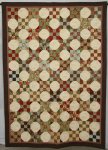 Scrappy Snowball

A homey twin quilt of earth tones.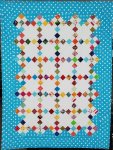 Sparkler

Colorful nine-patch blocks are set on point on a white background with a jaunty turquoise polka dot border. This lap quilt would brighten anyone's day.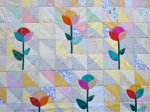 Spring Flowers

Colorful flowers are appliqued onto a pieced background of pastels on this generous lap or twin size quilt.


Springtime #1

A cute little dog enjoys the four seasons in this child's quilt with blue and pale green borders.


Starburst

White stars march across scrappy 16-patch blocks.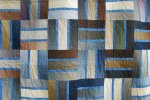 Strips of Ombre

Strips of Ombre


Sunny Fishes

A colorful lap quilt in blue, green and yellow. The whimsical suns, moons, and fish are from fabrics designed by Laurel Burch. The quilt's back even includes a mermaid.


Sunshine

The brightness of the multicolored blocks are rays of sunshine that will surely brighten up any room. No gray days with all this sunshine around.


Surprise Packages

Fabrics in shades of aqua and blues give the optical illusion of three dimensional boxes in this cleverly done quilt. The swirling motifs in the quilt stitching add texture and movement.


Surrounded by Stars

A striking setting of stars, inset into a frame of more stars.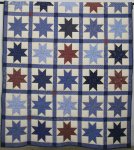 The General's Stars

A variety of blue stars, interrupted by scattered red stars, march across the blue framework with randomly placed red and blue cornerstones. The generous length would drape beautifully on a bed or couch.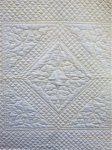 White on White

This stunning all-white quilt features highly detailed quilting designs in the old tradition.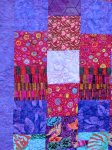 Wild Child

Bright, bold colors and prints march across this vibrant lap quilt. Purple borders frame it up nicely.